Movers in Thiensville, WI
High-Quality Movers in Thiensville, WI
Looking for the best movers in Thiensville, WI? Allow Mr. Mover to throw our hat into the ring! We have been assisting the residents (old and new) of Thiensville, WI have great moving experiences for over 20 years!
Nestled inside the city of Mequon, Thiensville provides a peaceful, small-town vibe in stark contrast to the busy Milwaukee downtown, just 20 miles south. Thiensville's farmers' markets and Village Park allow residents to have that peaceful small town life while not being too far from the exciting attractions of a big city like Milwaukee. Mr. Mover has been moving people all around Wisconsin since 1995 and our movers in Thiensville, WI are ready, today, to help you make your move!
We can take care of your entire move, or just a portion with our packing, moving, and storage services. Mr. Mover also provides in-home moving in case you are only looking for for a helping hand moving an item or items between rooms. Whatever your situation, we are ready to take care of your moving needs!
Please feel free to contact us if you are planning your move and would like advice, a suggestion in regards to delayed delivery, or information on storing your goods in a portable storage pod, a chosen storage facility, or our climate controlled warehouse.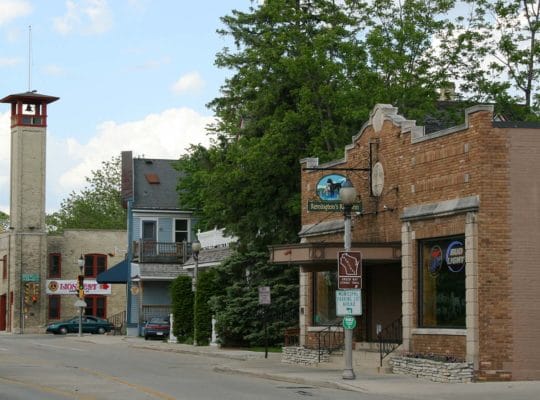 Mr. Mover was founded in Milwaukee, WI, in 1995, and has been serving the state of Wisconsin ever since. We are an intrastate mover, which means we only move within the state of Wisconsin. We specialize in residential and small commercial moves.
We have a unique computerized pricing and dispatch system designed by our founder, that allows Mr. Mover to quote a move over the phone by inputting a list of items the customer wants to be moved. With a confirmation letter sent by Mr. Mover, the customer can feel confident that there will be no surprises on moving day. Insurance costs are included in Mr. Mover's firm price and we are very careful to ensure that all your possessions arrive in the same manner as they left. You can see our Code Of Ethics, which all our movers sign and follow, here.
We would be honored to be your Wisconsin movers. Contact us today!