Commercial Business Moving
Mr. Mover is a southeastern Wisconsin moving company that has been helping businesses move all across Wisconsin for more than 20 years, so when you are looking for professional commercial moving, look no further than Mr. Mover! We offer services for every part of the move so you don't have worry about lifting a finger.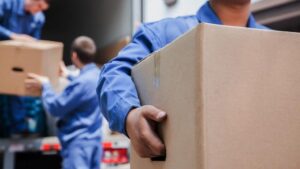 Packing & Unpacking
Our professional movers can pack any number of boxes, so whether you need just a one box or 500 boxes, Mr. Mover can take care of it. You can trust us to be respectful and pack all your belongings securely, but if any of your items happen to get damaged, Mr. Mover will take care of it to your satisfaction.
Moving
Mr. Mover has a team of fully bonded movers, so you can be sure we have only the best on our team. Our movers are equipped to handle anything that you may need moved, so whether you need an enormous conference table or heavy office equipment moved, we can make sure it gets done.
Storing
At Mr. Mover, we understand that not all moving can happen at once, that sometimes you have to wait before you can move into a new place. Because of this, we give you the option to store your items in our storage facility. Our facility is equipped a sprinkler system and climate-controlled spaces to make sure that none of your items get damaged or destroyed.
We also protect your items from getting stolen with surveillance system, and monitored entrances. Our storage facility is also closed off from the public, so don't have to worry about anyone even getting near your things. We are also affiliated with several other storage facilities across Wisconsin, so you can always a place to store your items through us!
Mr. Mover strives to make your moving experience hassle-free and worry-free. Contact us if you are ready to begin moving, have questions about Mr. Mover, or are looking for moving advice!
Free Quote