Portable Moving Container in Saukville
Mr. Mover Presents Portable Moving Containers in Saukville!
Are you in the process of looking for a portable moving container in Saukville? Mr. Mover has got you covered! We offer the newest and most user-friendly moving containers in the area! We understand how stressful any move can be, especially if you are looking for storage during the transition. We want to help alleviate any added stress you may feel during your move. That is why we offer top-of-the-line portable moving containers.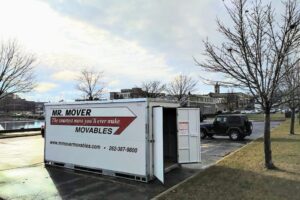 Our portable moving containers are similar to PODS, Portable On-Demand Storage, except we use a much stronger and sturdier all-metal container to protect your belongings.  They are fully galvanized, feature weather-tight doors, and offer specialized cargo tie-downs to secure your belongings inside.
Mr. Mover can deliver your portable moving container to your home, business, job-site, or brought to our warehouse for storage until you are ready for your belongings. Our portable moving containers are completely for your use. You can use them independently during your move and on your own time, or if you would like help loading and unloading we are happy to help.
We offer a 16′ portable moving container that is 18′ x 8′ x 16′ and can hold the contents of an average two-bedroom apartment. Take a look below for our suggestions for the number of portable moving containers you would require based on the square footage of your home.
For a high-quality portable moving container in Saukville, give us a call today! We look forward to helping you with your move in anyway that we can.
For more information on all of our moving services, click here!
Portable Storage Container average capacity*
Home/Apt Size:
800 sq ft. or less          1- Movable Container
1200 sq ft. or less        1-2 Movable Containers
1600 sq ft. or less        2 Movable Containers
2000 sq ft. or less        2-3 Movable Containers
2500 sq ft. or less        3 Movable Containers
3000 sq ft. or more      3+ Movable Containers
(call us, we can help provide some guidance)
*Capacity of Movables is an estimate only, variables exist and Mr. Mover does NOT guarantee the Movables you order will fit your needs.