Portable Storage in Cedarburg
Mr. Mover Presents Portable Storage in Cederburg!
In need of portable storage in Cedarburg? At Mr. Mover's, we are a family-owned company specializing in residential and small commercial moves and portable storage. With over 25 years of experience, we have a level of expertise and familiarity with the area to help you feel peace of mind with your moving and storage needs.
We promise to provide only the highest quality care in all of our jobs, which is why we use advanced technology to make the moving and storage process easier for you! We have developed a computerized pricing and dispatch system so that we can always provide you with fast and accurate quotes. Our high-tech system eliminates the need for in-person estimates and gives you your quote within five minutes, saving you the time and hassle of an in-person visit. Furthermore, all of our jobs in moving and portable storage in Cedarburg are all-inclusive, meaning there are no hidden costs or surprises.
Our portable storage uses top-of-the-line containers to keep all of your belongings safe. Unlike many other moving companies that use flimsy, plastic storage containers, we use all-metal containers that are sturdier and more durable. These containers are equipped with weather-tight doors and specialized cargo tie-downs to ensure that your belongings are secure and protected throughout the entire transport.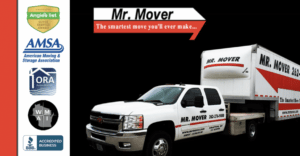 We offer a 16′ portable moving container that is 18′ x 8′ x 16′ and can hold the contents of an average two-bedroom apartment. Take a look below for our suggestions for the number of portable moving containers you would require based on the square footage of your home.
Whether you are trying to take your portable storage to a home, business, or job site in Cedarburg or the surrounding area, Mr. Mover's is on it! This makes our services ideal for customers who need to store items during a move or renovation as well as for businesses that need to store equipment on their job sites. Furthermore, our portable storage is much more versatile than traditional storage options. We can bring the container directly to your location, fill it up with your belongings, then take it away for storage. This seamless operation and professional movers is a process you can trust.
With Mr. Mover's, you can be sure that your belongings are in good hands. Contact us today with any questions or for your free quote about portable storage in Cedarburg.
Portable Storage Container average capacity*
Home/Apt Size:
800 sq ft. or less          1- Movable Container
1200 sq ft. or less        1-2 Movable Containers
1600 sq ft. or less        2 Movable Containers
2000 sq ft. or less        2-3 Movable Containers
2500 sq ft. or less        3 Movable Containers
3000 sq ft. or more      3+ Movable Containers
(call us, we can help provide some guidance)
*Capacity of Movables is an estimate only, variables exist and Mr. Mover does NOT guarantee the Movables you order will fit your needs.