Portable Storage in Germantown
Mr. Mover Portable Storage in Germantown
If you're in need of storage pods or moving help, we've got great news! Mr. Mover has introduced their own portable storage in Germantown! "Movables" are our brand-new containers made for all of your storage and/or moving needs. The convenience of storing your valuables has never been easier. Our team will bring the storage to you, wherever it is that you need it!
Our fantastic Moveables are similar to PODS (Portable On-Demand Storage). However, there are a few differences that set us apart! At Mr. Mover, we use a much stronger, all-metal container to keep all of your belongings stored safely for you. As an added bonus, you'll be in business with Mr. Mover Inc., a local company. We aren't some 1-800 conglomerate from across the country. We're right in your backyard. Being local means we have a better ability to provide on time deliveries to wherever you may need, because we're not that far away to start! Mr. Mover Movables are your local choice for on the move or portable storage needs!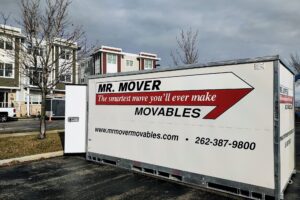 We pride ourselves on knowing you can rely on us when ordering a Movable container when you need it most. As a dependable and trustworthy company, you know you can have faith in us to deliver a top-of-the-line container to you, on time and where you need it.
A fully galvanized container that features weather-tight doors and unique cargo tie downs will secure your belongings inside no matter the weather.
We can deliver Mr. Mover Movables to your business, home, or job-site for your temporary usage of our portable storage. Or, we can have it brought back to our warehouse to store until you need those items again. Whether you have the space, or need the space, Mr. Mover is the right choice. You can move our containers on your time, giving you the convenience you need. If assistance is needed, we're just a call away to help you with loading and unloading or anything in between!
Our 16′ Movable container is 8′ x 8′ x 16′ and can hold the contents of the average 2BR apartment. Check out the information below for our suggestions on the number of Movables you may need based on the square footage of your home.
Movable Container average capacity*
Home/Apt Size:
800 sq ft. or less          1- Movable Container
1200 sq ft. or less        1-2 Movable Containers
1600 sq ft. or less        2 Movable Containers
2000 sq ft. or less        2-3 Movable Containers
2500 sq ft. or less        3 Movable Containers
3000 sq ft. or more      3+ Movable Containers
(call us, we can help provide some guidance)
*Capacity of Movables is an estimate only, variables exist and Mr. Mover does NOT guarantee the Movables you order will fit your needs.